X-Men fan fiction
Fearless Letters
From the desk of teenage Scott Summers

Summary

Teenage Scott Summers has a lot of problems. He has all the usual problems. Trying to fit in homework and extracurricular activities, and then there are girls. One girl in particular. Jean Grey. Scott Summers has been in love with Jean Grey from the moment he saw her... but he can never quite manage to tell the girl he loves how he feels about her. Fighting supervillains and saving the world is easier!

Plus he's a mutant, possessing the ability to emit blasts of pure kinetic energy from his eyes. And, as Cyclops, Scott Summers leads the X-Men. Committed to Charles Xavier's vision of a world where peaceful coexistence can be achieved between humans and mutants, Cyclops and the X-Men are sworn to defend a world that hates and fears them.

But his life changed when the sixteen-year-old Scott Summers and his teammates were transported into the future to see what had become of their lives... and the young X-Men couldn't go home again until they had righted the wrongs they found there.

Currently teenage Scott is on leave from the X-Men and traveling through space with his long-lost father, Corsair.




Read more!
Fearless Letters

Interact on Twitter!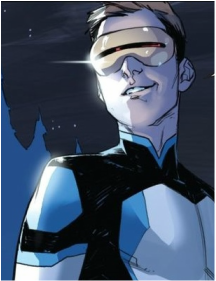 @FearlessLeaderX
on Twitter!
Scott Summers. Known as Cyclops.
Someone told us there was going to be a mutant genocide or an apocalypse....
(Adult Scott is
@ShadesOfSummers
)
---
Playlists on Spotify:

FearlessLeaderX and ShadesOfSummers are not affiliated with Marvel Comics or Disney. All social media accounts and the content within are intended for fan-based networking and entertainment purposes only.




So Let it Be Written Publishing © 2004